Ms. ANNA DIANA K M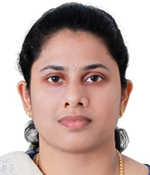 About
Ms. Anna Diana K M has completed her MCA from Sikkim Manipal University and B.Sc. in Chemistry from The Cochin College, Ernakulam. She has done GNIIT for Software Engineering at NIIT. Before joining Naipunnya in 2014, she was working in NIIT, she was also a VIVA examiner for MCA and MBA students at Sikkim Manipal University. She has taken 3 Microsoft certifications, and is a Microsoft Certified Trainer. She is having 7.4 years of teaching experience.
Work Experience
Worked as Lecturer at Naipunnya College Pongam .
Six Years Experience as faculty and GL in NIIT Ravipuram.
Roles Handled
Helping students in doing projects.
Mentoring them to achieve their goal.
Co-ordinating programs like anniversary of the college, Christmas, Teachers Day, Environmental Day etc.
Mentoring them to achieve their goal.
Mentoring and giving training to the new faculties.
Checking quality of lecturing by sitting in the classes of faculties.
Taking care of certification process of students at NIIT.
Workshop
Took class for Android at Government Engineering college Idukki for B-Tech final year students for 3 days.