Ms. Sarithadevi S.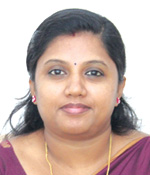 Position: Asst.Professor
Email-ID:arithadevi@naipunnya.ac.ins
Qualification :MCA, UGC NET
Teaching and Research Interests
Pursuing PhD in Computer Science at CHRIST University, Bangalore.Her teaching interests includes
Data Science
Software Engineering
Computer Networks
Theory of Computation
Compilers
Data Structures and Algorithms
Database Management Systems
Operating Systems
Cryptography
Work Experience
Assistant Professor, Department of Computer Science, Naipunnya Institute of Management and Information Technology from 2015 till date.
Assistant Professor, Department of Computer Application, KMM College of Arts and Science, Trikkakara, Ernakulam from 2012 to 2015.
Instructor at Indian Aerospace and Engineering College, Mumbai, 2009.
Lecturer at Krupanidhi College, Bangalore, 2007.
Publications
Published a paper "PBL-A Teaching and Learning Approach" on the journal Nai Vigyaan (2022)
Published a paper "The Nature and Application of Problem Based Learning in Academic Environments" on the Journal Vigyaan (2022).ISBN-978-81-949892-5-7
Presented and Published a paper on "A literature review on Learning Analytics-Different Methodologies, Ethical Issues in LA" (2020)
Presented and published the research paper, "A Study on the Influence of Ecommerce website quality on customer satisfaction among working professionals in Kerala", at Vigyaan-the National Conference on "Internet of Things" organized at NIMIT.ISBN-978-93-5406-047-2
Published a paper on"A Comparative Study of Training Algorithms for Supervised Machine Learning" in the journal Vigyaan ISBN 978-81-949892-0-2
Presented and published the research paper, Robotic Process Automation-The Future of Workforce" at St.Joseph's College (Autonomous), Irinjalakuda, Thrissur.
Published the research paper, Robotic Process Automation on the Journal Nai Vigyaan, from NIMIT.ISBN-978-93-5396-465-8
Awards
 Faculty Achievement Award from NIMIT