Ms. Jissmol Varghese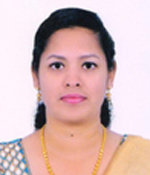 Position: Assistant Professor
Email-ID: jissmolbinu@gmail.com
Qualification :M. Com, B.Ed, SET
Teaching and Research Interests
Reading Literature and helping in the development of student education.
Work Experience
Higher Secondary Teacher at MES Indian School, Doha Qatar with work experience of 12 years,2 years in NIMIT
Cultural & Co-Curricular Activities In charge.
Commerce & Social Club activities.
Science & Commerce Exhibition In charge.
Class coordinator for Commerce (XI & XII)
ISO Audit and some affiliation support activities
Scholarship Nodal officer in NIMIT
Addon course coordinator for commerce department in NIMIT
MS Excel Addon course coordinator
Criteria 1
Publications
Investment Inertia-Influence on investment decision among working women in Dogo Ransang Research Journal , Indexed in UGC Care – List Volume -1, Issue 8 No. 01 June 2021
Naivigyan (2022) -A study on the bandwagon effect among college students to invest in the stock market during pandemic with special reference to Ernakulam district.
Workshops/Trainings Attended
Teacher Orientation Workshops attended at MES Indian School, Doha, Qatar
Certifications
AISSC Practical Examination – External Examiner (02/2018 – 02/2019) Birla Public School, Doha, Qatar
MS Office – Refresher Course (08/2019) LCC Computer Education
Long Service Award (09/2018) Teachers Training Programme (12/2017) MES Indian School, Doha, Qatar